Welcome to the website of Heidi M. Sands.
Here you will find information about my work; books, writing, photography and horseshoes. Please see my blog page for up to date news including details of my current work.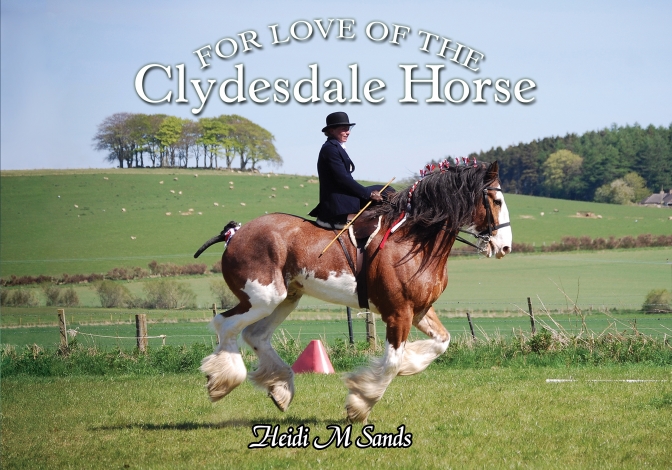 October 2017 sees my latest book for Old Pond 'For love of the Clydesdale horse' published. It's a collection of pictures that pay homage to this magnificent horse. Scotland's only native heavy horse, the Clydesdale is capable of many tasks. My new book shows the Clydesdale at work, resting, ridden and in the show ring. There are a few pictures in my gallery for you to see and browse and more information on my blog page. If you'd like to order please go to my publishers website www.oldpond.com
In 2011 'The Horses of Appleby Fair' was published by Old Pond Publishing. The book has 130 full colour photographs with introductions to each of its four sections; Arriving, Washing, Flashing or exhibiting the horses, and Fair Hill. The photographs capture the beauty, character and lives of these horses. This is an age old gathering where for a few days each June, the horse is king. During the early summer of 2011 a selection of photographs from the book were on view at the Tourist Information Centre at Appleby, in Cumbria.
June 2013 saw the publication of my second Appleby book, again published by Old Pond. This new book 'Absolutely Appleby' is similar to 'The Horses of Appleby Fair' and is a stand alone title as well as a companion to the first. Both books are available from 5M Publishing please see www.oldpond.com
Halsgrove publish my other books including a 'Boot Up the Speyside Way' my Shetland and Highland pony books and one on Speyside. All can be purchased from the publisher at www.halsgrove.com
Born in rural Lancashire in the 1960s, I've spent the best part of the last three decades living and working on Speyside in the north east of Scotland, being involved, along with my family, on the farm. In 1995 my writing career took off when I won a National children's short story competition. In the years that followed I have contributed hundreds of articles and photographs to many of the UK's countryside, agricultural and equine magazines, including The Countryman's Weekly, The Scottish Farmer, Horse Deals, The Countryman and others. During the 1980s I studied art and design, including photographic studies at Preston Polytechnic and Blackpool and Fylde College, both now incorporated into The University of Central Lancashire.
Being a daughter of the soil so to speak and having a lifelong love of horses, especially native ponies and in particular the Fell pony, has put me in a unique position when it comes to recording by way of words and pictures, all aspects of farming, the horse world and the great outdoors. I've been lucky enough to meet and photograph the only Bashkir Curly Horses in the UK and been one of the few people to visit Loch Spey on foot. In short my work has taken me to some fantastic places and enabled me to meet wonderful people. I've been lucky enough to get down on paper stories that would otherwise have remained unknown and capture once in a lifetime images.
I hope you'll follow me through my website for a look at some of my work. If you'd like to know more please get in touch via the contacts page. All images are copyright. If you are interested in purchasing my pictures please let me know.